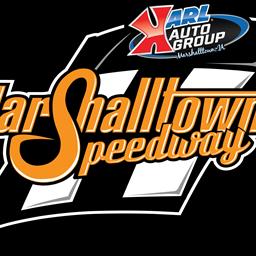 5/12/2023
Marshalltown Speedway
---
Hudson O'Neal Lands in Lincoln Castrol FloRacing Victory Lane Marshalltown Speedway and Davenport Speedway up Next on May 16-17
LINCOLN, Ill. (May 11, 2023) — The 2023 Castrol® FloRacing Night in America Thursday night visit to Lincoln Speedway came down to a one-lap dash to the checkers with a $23,023 carrot dangling in front of the field with Hudson O'Neal emerging victorious over Brandon Sheppard.
Less than a half a circuit away from the checkers in round two of Illinois Speedweeks, the Martinsville, Ind., came mere feet away from clobbering a spun-around Ricky Thornton Jr., who drew the race's final caution on the last lap.
"I didn't know if I was going to get it (slowed) up," O'Neal said. "It was close. My butt was puckered."
O'Neal's heart rate was likely higher than normal throughout the 50-lap Castrol FloRacing Night in America feature, though, as he held off a charging Brandon Sheppard down the stretch for the $23,023 victory. Sheppard, who finished 0.879 of a second behind, nearly erased O'Neal's 2.6-second lead in the closing laps rallying around the top of the quarter-mile oval.
But even with his predecessor looming large, the Rocket House car driver never cracked under pressure en route to his sixth overall victory of the 2023 season, which should only strengthen his grip atop DirtonDirt.com's Top 25 poll.
"The track changed so fast, I really thought the top was going to be there the whole time," O'Neal said. "I was running second behind Tyler (Erb), and I tried the bottom that one time. I was like, dang, it's pretty good down here. I rolled it and rolled it, and whenever it came time to move to that bottom, I wasn't very excited about it.
"That cushion was getting treacherous," O'Neal added. "It was just difficult to hit. My guys … they work hard to give me a great race car to be able to move around all over the racetrack and get by lapped cars. Man, it was a fun race. I don't know how it was for you fans, but, man, it was awesome on my end. That's what a driver dreams of, is to be able to have a race like that."
Overall, O'Neal led the final 41 laps, taking the lead for good when sneaking around pole-starting Tyler Erb rounding the backstretch on lap nine. Erb, who led the opening nine laps, faded to finish seventh while Sheppard turned up the intensity from the seventh-starting spot.
Sheppard didn't make the bulk of his moves until after the race's first caution for Garrett Smith on lap 21. The New Berlin, Ill., driver made his way to fifth prior to the restart with 29 laps to go, setting up his advancement to second around Jonathan Davenport on lap 33.
While roughly 2.5 seconds separated O'Neal and Sheppard, no slower cars stood between them. That allowed Sheppard to ramp up his pace around the top and ultimately chop the deficit to mere car lengths with 10 laps remaining.
"I was giving it all she had for sure," Sheppard said. "Hudson and them guys have been really fast. Congratulations to them. We had a really fast car tonight."
Two crucial mistakes doomed Sheppard's chances in a five-lap span down the stretch on Thursday — the first with 10 laps left when he got tight through turns one and two, and the dagger being with six laps left when he smacked the outside the wall in turn four.
"It got to the point where I couldn't steer getting into the corner a little bit," Sheppard said. "That was kind of hurting me in the slick by getting across to the exit. Overall, the car was really good. I could run the bottom, middle, top, wherever I needed to go. Got to second there, tracking them down, and then jumped the cushion (with six laps left). That was pretty much the end of the race for me."
Thursday's outing adds to Sheppard's upswing lately. In the last six races, Sheppard's only finished outside the top-two once: his eighth-place run in Wednesday's Illinois Speedweek opener at Spoon River Speedway in Banner, Ill.
"We're definitely not hanging our heads about that," Sheppard said of Thursday's runner-up. "Hopefully we can get the rest of these races in this weekend and get us one."
As for Jonathan Davenport, he chalks up yet another podium run that never created enough speed to challenge for the lead. Davenport started fourth and ran as low as fifth in the opening 10 laps. He made his way to second on lap 20 and stayed there until lap 31 when Sheppard came onto the scene.
Though it's not a memorable performance, it's good enough to maintain Davenport's third-place standing in Castrol points, now nine markers behind leader Mike Marlar.
"We went soft on tires tonight. I couldn't leave the bottom, Davenport said. "I could hardly leave the bottom down the straightaways. I couldn't get steered back to it. That's awesome. Three different tire combinations once again in the top-three cars just like last night. Hats off to Hoosier for giving us some options, and the Flo series for giving us all three tires here also."
The Castrol® FloRacing Night in America portion of Illinois Speedweeks is now complete. However, the action is just getting started. The second annual Illinois Speedweek continues as the Lucas Oil Late Model Dirt Series (LOLMDS) sanctions a $25,000-to-win program on Friday, May 12 at Farmer City (Ill.) Raceway before invading Fairbury (Ill.) Speedway on Saturday, May 13 for a $30,000-to-win event.
For more information, please visit www.LucasDirt.com .
Castrol® FloRacing Night in America continues next Tuesday and Wednesday at Marshalltown (Iowa) Speedway and Davenport (Iowa) Speedway as both tracks host a $23,023-to-win / $1,000-to-Win Super Late Model event.
The Super Late Model tire rule for both events will be as follows:
Marshalltown (Iowa) Speedway – May 16, 2023
Davenport (Iowa) Speedway – May 17, 2023
Front Tires: Hoosier NLMT2, LM20, NLMT3, LM30
Left Rear: Hoosier NLMT2, LM20, NLMT3, LM30
Right Rear: NLMT3, LM30, NLMT4, LM40
*No 29.0 / 92.0 tires allowed on Left Rear or Front Tires at any series event
Complete series rules can be found at www.FloSeries.com .
On Tuesday, May 16 Castrol® FloRacing Night in America Super Late Models will be joined by IMCA Stock Cars ($750-to-win) and IMCA Modifieds ($1,000-to-win).
Reserved grandstand seating is $40 and general admission seating is $35. Pit admission is $45.
The pit gate opens at 4 p.m. CT with grandstands opening at 5 p.m. The driver's meeting is at 6 p.m. with hot laps at 6:30 p.m. and racing action to follow.
Then on Wednesday, May 17 the tour rolls into the Kay family promoted Davenport (Iowa) Speedway for the first time. Joining the night's action will be IMCA Modifieds
General admission (ages 13-and-up) is $35 with children (ages 5-12): $10, and kids (ages 4-and-under) free. Pit admission (ages 13-and-up) is $45 with children (ages 12-and-under): $20.
Pit gate opens at 1 p.m. CT with the grandstand gate opening at 5 p.m. The driver's meeting is at 6 p.m. with hot laps at 6:30 p.m. and racing action to follow.
Castrol® FloRacing Night in America Purse
1)$23,023 2)$11,000 3)$5,000 4)$4,000 5)$3,000 6)$2,500 7)$2,250 8)$2,000 9)$1,800 10)$1,500 11)$1,200 12)$1,150 13)$1,100 14)$1,050 15-22)$1,000
TOTAL - $68,573
Entry Fee: $100
Non-Qualifier Money: $50
Drivers, who plan to compete in any of the 2023 season events, are encouraged to register via the site or directly at https://www.myracepass.com/series/1997/registrations/6834 .
Advance registration will make check-in on the day of the show easier.
For more information on Castrol® FloRacing Night in America sponsors, visit the company websites at www.castrol.com; www.integrashocksandsprings.com; www.k1racegear.com; www.buzzeracing.com; www.eibach.com; www.sweetmanufacturing.com; www.springrithm.com; www.sunocoracefuels.com; www.eibach.com; www.coltmanfarms.com; www.poske.com; www.rocketchassis.com; www.dirtdraft.com; www.hoosiertire.com; www.fivestarbodies.com; and www.fkrodends.com.
For complete Castrol® FloRacing Night in America details, visit the series website at www.FloSeries.com. For other questions, contact Ben Shelton at msrmafia@gmail.com or 901-335-3037.
Castrol® FloRacing Night in America Points
Lincoln Speedway (Lincoln, Ill.)
May 11, 2023
A Feature 1 (50 Laps): 1. 1-Hudson O'Neal[2]; 2. B5-Brandon Sheppard[7]; 3. 49-Jonathan Davenport[4]; 4. 58-Garrett Alberson[3]; 5. 5-Tim McCreadie[8]; 6. 157-Mike Marlar[5]; 7. 1T-Tyler Erb[1]; 8. 76-Brandon Overton[11]; 9. 11H-Spencer Hughes[10]; 10. 99M-Devin Moran[13]; 11. 12-Ashton Winger[6]; 12. 32-Bobby Pierce[19]; 13. 20RT-Ricky Thornton Jr[18]; 14. 18D-Daulton Wilson[22]; 15. 11G-Gordy Gundaker[20]; 16. 96V-Tanner English[23]; 17. T6-Tommy Sheppard Jr[15]; 18. 84-Myles Moos[17]; 19. 24-Ryan Unzicker[16]; 20. 174-Ethan Dotson[9]; 21. 18B-Shannon Babb[21]; 22. 10-Garrett Smith[12]; 23. 7-Ross Robinson[24]; 24. 19R-Ryan Gustin[14]
DNS: Dennis Erb Jr., Billy Moyer, Brian Shirley, Bob Gardner, Jake Little, Kyle Hammer, Kyle Beard, Rich Dawson, Doug Tue, Daniel Adam, JC Waller, Max Blair, Frank Heckenast Jr., Jason Feger, Josh Boller, Boom Briggs, Roben Huffman, Dustin Sorensen, Brandon Eskew, Chase Junghans, Drake Troutman, Brian Diveley, Kolby Vandenbergh, Daniel Hilsabeck
Entries: 48
Sunoco Race Fuels Qualifying Group A (and overall): Brandon Sheppard (12.815 sec.)
Sunoco Race Fuels Qualifying Group B: Hudson O'Neal (12.908 sec.)
Integra Racing Shocks Heat Race #1 Winner: Tyler Erb
K1 Race Gear Heat Race #2 Winner: Garrett Alberson
Buzze Racing Heat Race #3 Winner: Mike Marlar
Eibach Springs Heat Race #4 Winner: Hudson O'Neal
Sweet Manufacturing Heat Race #5 Winner: Jonathan Davenport
Dave Poske Performance Parts Heat Race #6 Winner: Ashton Winger
Coltman Farms B-Main Winners: Bobby Pierce, Gordy Gundaker
Trailer Queen Drive of the Night: Brandon Sheppard
Tezos Hard Charger: Daulton Wilson (22nd-14th)
Hoosier Tire Drawing Winners: Ryan Gustin, Max Blair
$150 Cash Drawing Winners: Garrett Smith, Tanner English
Castrol® FloRacing Night in America Point Standings
(Standings After May 11, 2023)
1)Mike Marlar – 288
2)Hudson O'Neal – 282
3)Jonathan Davenport – 279
4)Brandon Sheppard – 273
5)Tim McCreadie – 270
6)Bobby Pierce – 258
7)Tanner English – 228
8)Devin Moran – 228
9)Ricky Thornton Jr. – 209
10)Dennis Erb Jr. – 165
11)Tyler Erb – 161
12)Brandon Overton – 155
13)Spencer Hughes – 131
14)Kyle Larson – 126
15)Ashton Winger – 111
16)Daulton Wilson – 107
17)Garrett Alberson – 104
18)Gordy Gundaker – 102
19)Shannon Babb – 99
20)Ross Robinson - 98
---
Article Credit: Ben Shelton
Submitted By: Jerry Vansickel
Back to News