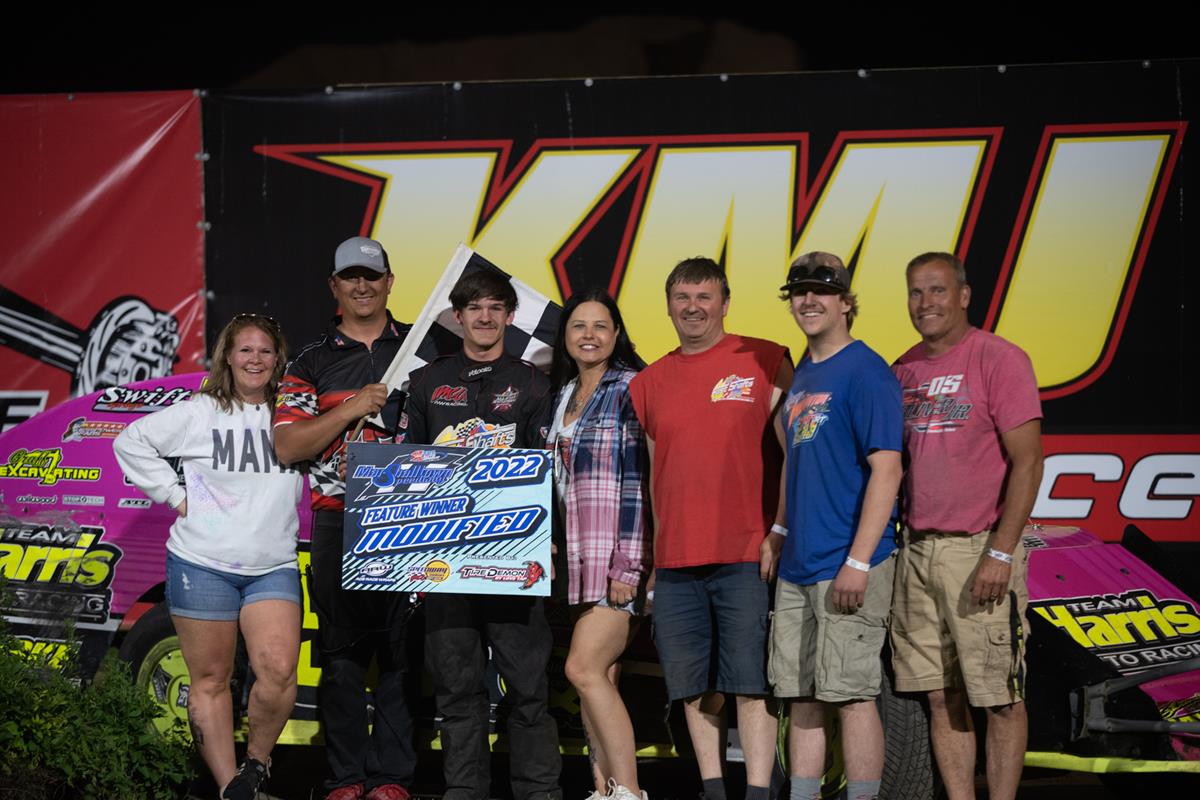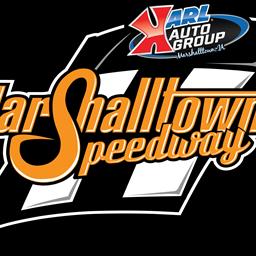 6/20/2022
Marshalltown Speedway
---
Murty Wins a Thriller at the Wire
It was RBF Electric Night at the Races at the Marshalltown Speedway on Friday evening. After last week's rain out drivers and fans were eager for the racing action and the drivers provided.
Dallon Murty made a thrilling last corner power move to take the feature win in the Friesen Performance IMCA Modifieds. It was Miciah Hidlebaugh going away with the victory in the Sunoco IMCA Stock Car feature, and Tony Olson bested cousin Kyle Olson in the Friesen Performance IMCA Northern SportMod main event. Solomon Bennett took the $400 pay day by coming out on top of the Sunoco IMCA Hobby Stocks, Steven Kennedy took his first career win in the STARS Mod Lites, and Tyler Fiebelkorn won the Mach-1 IMCA Sport Compact A main.
Things kicked off with the Mod Lites and their 15 lap main event. Steven Kennedy started on the pole and led all laps of the caution free race on his way to a dominate victory, taking the checkers well ahead of second place Randy Bryan. Third went to Aaron Gray, who started sixth, fourth was tenth place starter Jason Masengarb, Colona, Illinois, and rounding out the top five was Milan, Illinois's Jacob Copley. Kennedy is following in his father Mike's footsteps, getting his first career win at Marshalltown on Friday night.
The Northern SportMods had more than their share of trouble trying to get their 18 lap feature started. After two or three initial "no goes", and then another caution at lap one, the drivers were struggling to find their racing rhythm. When another caution flew at lap five, the driver in command was Evandale, Iowa's Will Wolf, with Travis Peterson, and a couple of Olson cousin's....Tony and Kyle anxious for the restart. It didn't take long before it was a race between the Olson boys, first Kyle taking command, and then Tony taking the top spot shortly thereafter. The closing laps saw Tony Olson keep that lead, and then put some breathing room between himself and cousin Tony as they finished one-two at the checkers. Wolf held the third place spot, fourth went Travis Peterson, and Kalin Lopez rounded out the top five. This was Tony Olson's first victory at the track this season.
The Hobby Stocks were running for a $400 pay off on this night. There was a lot of different leaders on the first handful of laps. Mark Hidlebaugh led lap one, lap two it was Darin DeZwarte, lap three, Solomon Bennett was leading, and then it was John Watson with the lead on lap five. Watson looked to have things well in hand when he established that top spot, but a caution on lap sixteen changed that up. The battle for the lead was intense on the restart, and Watson got the bad luck of that deal, getting jostled and falling back and Solomon Bennett coming out with the lead. Bennett would keep the top spot the rest of the way to the checkers and seal the win. Finishing a close second was tenth place starter, Bradley Graham, third went to Seth Butler, Eric Knutson was fourth, and Sully, Iowa's Cory VanderWilt came from twelfth to finish fifth.
It was a first time win at Marshalltown for Menlo, Iowa's Miciah Hidlebaugh when he took the checkers in the 20 lap IMCA Stock Cars. He became the lucky recipient of the lead when two hard-battling drivers, Jay Schmidt, and Steve Meyer had misfortune at lap eighteen when they were going at it tooth and nail. Schmidt had taken over the top spot from Meyer and then the two got together in turn one just after lap eighteen had been scored....resulting in them both spinning and stopped under the yellow. This gave Hidlebaugh the lead with just two laps remaining, and he held on and took the win. Finishing second was veteran hometown racer, Jeff Wollam who started eleventh. Michael Jaennette was third, fourth went to Scott Rice, and Mike Goldsberry was fifth. Hidlebaugh started tenth on his drive to victory lane.
It was a close battle from lap eight to the finish between Ronn Lauritzen and Dallon Murty....Lauritzen with the upper hand. The two talented racers duked it out lap after lap, Murty looking high, and looking low for a way around, to no avail. The crowd was on its feet on that final lap, when Murty swung to the topside in a power move coming out of corner four, and just nipped Lauritzen at the line for the win. Lauritzen had to be content with second place, though no doubt disappointed. Hometown driver, Jimmy Gustin came from fourteenth starting spot, to take third place. Fourth went to Gat Leytham, and Cory Sauerman started tenth, and finished fifth. This was Murty's second win at Marshalltown this season.
The night's racing ended with the IMCA Sport Compact A feature. This race was marred by two red flags when John Gill took a tumble in turn one with about a handful of laps in the books. A few laps later, it was Noah Beenken taking a high and wild roll in turn four. Thankfully, both drivers were immediately out of their cars and okay. Tyler Fiebelkorn was leading when the race restarted, and he was able to maintain that top spot the rest of the way to the checkers and the win. Mark Smith was second, John Schuring took third place, John Patterson was fourth, and Zachary Cleghorn was fifth.
Next Friday night, June 24, will be Drury Automotive Night at the Races. The Outlaw Mini Mods will be joining the IMCA Modifieds, Stock Cars, Northern SportMods, Hobby Stocks, and STARS Mod Lites for a full night of racing action. Hot laps are 6:55 with racing at 7:30.
---
Article Credit: Joyce Eisele
Submitted By: Jerry Vansickel
Article Media
Back to News