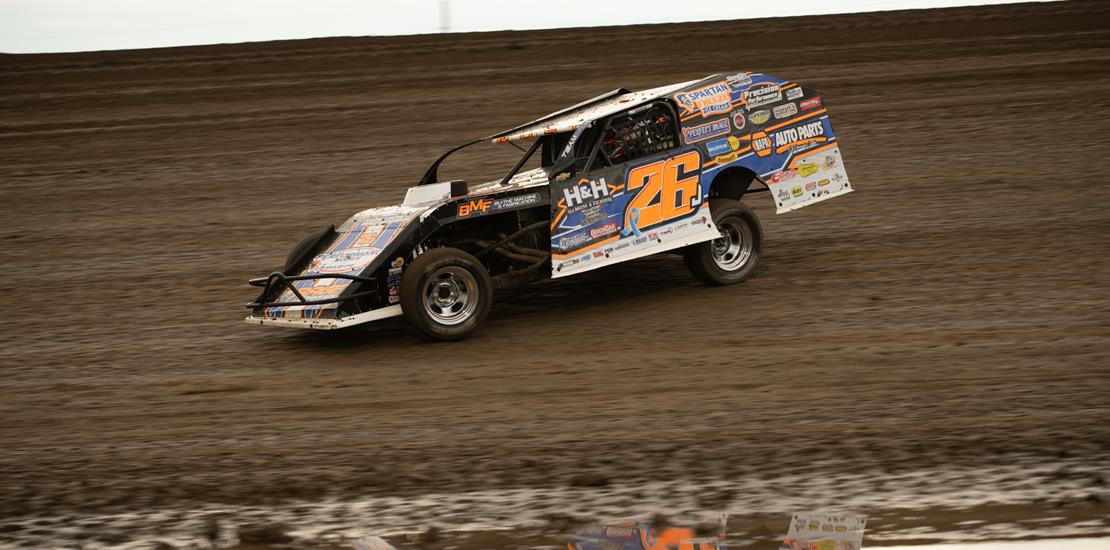 9/22/2022 -
Marshalltown, Iowa September 17, 2022 It was UAW Local 893 Cliff Chambers Memorial Saturday Spectacular for Night #2 of the 16th Annual World National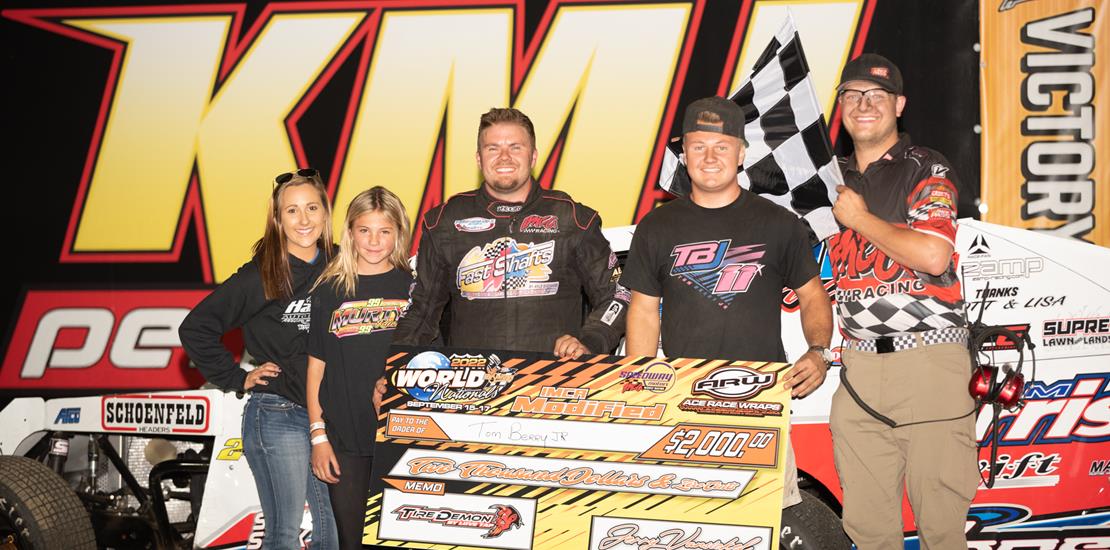 9/22/2022 -
Marshalltown, Iowa September 16, 2022 Friday night, the Marshalltown Speedway came back to life for the first of two nights of the 16th Annual World N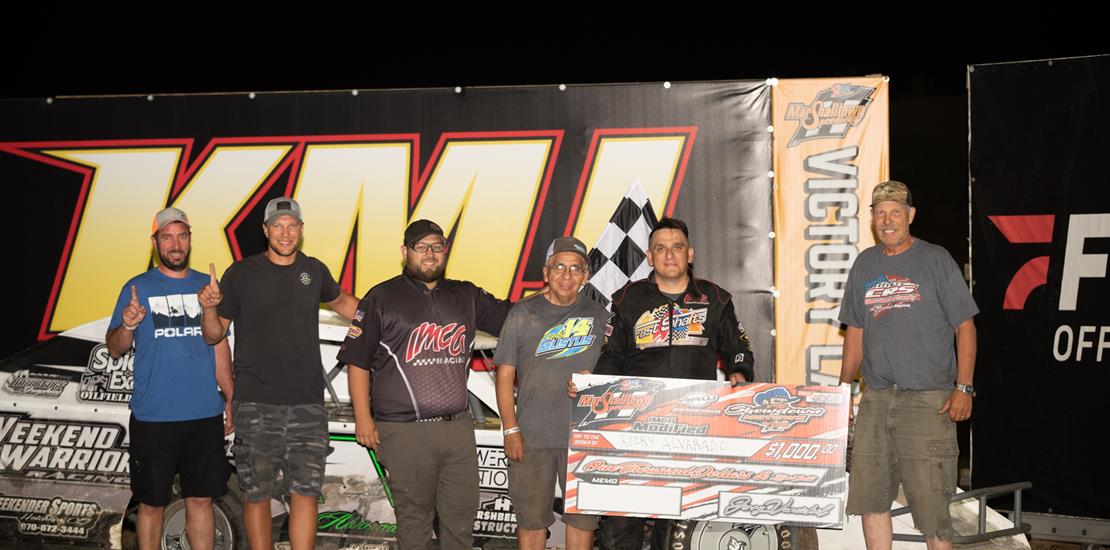 9/22/2022 -
Marshalltown, Iowa September 2, 2022 The pits were packed at the Marshalltown Speedway with 166 cars on Friday night, and the majority from out of sta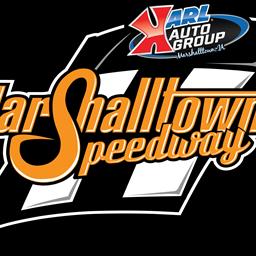 8/30/2019 - Marshalltown Speedway
Marshalltown, IA
Safelite Auto Glass Showdown at MoTown
$1,000 to Win IMCA Modifieds
$500 to Win IMCA Stock Cars
$500.00 to Win IMCA SportMods
$300 to Win IMCA Hobby Stocks
It will be a draw/redraw in all classes.
Also running the Karl Chevrolet Dirt Trucks and 2 Man Cruisers following the Brooklyn rules.
Admissions
Grandstands
$15.00 Adults
$12.00 Seniors
Kids 10 ans Under FREE
Pits
$30.00
This event will be on Speed Shift TV as part of the $40.00 monthly subscription.
Karl Chevrolet Dirt Trucks

9 entries

Hobby Stock

22 entries

Stock Car

18 entries

Modified

36 entries

SportMod

18 entries
Full Event Information on MyRacePass
Karl Chevrolet Dirt Trucks
Finish
Start
#
Competitor
Hometown
+/-
1
1
21
Myles Michehl Fort Dodge, IA
Fort Dodge, IA
-
2
6
2
Jeff Frevert Fort Dodge, IA
Fort Dodge, IA
4
3
2
23
Jeff Johnson Indianola, IA
Indianola, IA
-1
4
9
17
Bryan Spangler Coon Rapids, IA
Coon Rapids, IA
5
5
4
C2
Del Enos Des Moines, IA
Des Moines, IA
-1
6
3
79
Shonn Mapes Ankeny, IA
Ankeny, IA
-3
7
8
16
Justin Schroeder Coon Rapids, IA
Coon Rapids, IA
1
8
5
9
Lou Sipolt Altoona, IA
Altoona, IA
-3
9
7
40
Lucas Richardson Coon Rapids, IA
Coon Rapids, IA
-2
Finish
Start
#
Competitor
Hometown
+/-
1
1
9
Lou Sipolt Altoona, IA
Altoona, IA
-
2
3
23
Jeff Johnson Indianola, IA
Indianola, IA
1
3
4
C2
Del Enos Des Moines, IA
Des Moines, IA
1
4
2
40
Lucas Richardson Coon Rapids, IA
Coon Rapids, IA
-2
5
5
17
Bryan Spangler Coon Rapids, IA
Coon Rapids, IA
-
All transfer
Hobby Stock
Finish
Start
#
Competitor
Hometown
+/-
1
7
7BX
Eric Stanton Carlisle, IA
Carlisle, IA
6
2
3
38R
Aaron Rudolph Grand Juction, IA
Grand Juction, IA
1
3
5
19
William Bonnett Knoxville, IA
Knoxville, IA
2
4
4
83
Jeff Ware Columbus, NE
Columbus, NE
-
5
1
76
Blake Henry Indianola, IA
Indianola, IA
-4
6
9
39
Colby Kaspar Columbus, NE
Columbus, NE
3
7
18
18S
Gary Ollendieck Sumner, IA
Sumner, IA
11
8
17
24
Dustin Thompson Villisca, IA
Villisca, IA
9
9
12
06B
Brandan Long Des Moines, IA
Des Moines, IA
3
10
15
75L
Jacob Lehman Waterloo, IA
Waterloo, IA
5
11
2
40SE
Scott Ellis Marshalltown, IA
Marshalltown, IA
-9
12
8
11K
William Klosterman Ackley, IA
Ackley, IA
-4
13
11
56J
Jamie Coady Colfax, IA
Colfax, IA
-2
14
13
37G
Jeremiah Andrews Union, IA
Union, IA
-1
15
21
9F
Breyden Forbes Evansdale, IA
Evansdale, IA
6
16
14
17X
Ben Newhouse ` State Center, IA
State Center, IA
-2
17
6
24T
Tyler Ollendieck Tripoli, IA
Tripoli, IA
-11
18
20
30T
Brian Stevens Newton, IA
Newton, IA
2
19
10
29RD
Rowan Mason Lincoln, NE
Lincoln, NE
-9
20
19
17
Andy Peck Newton, IA
Newton, IA
-1
21
16
75M
Preston Merical State Center, IA
State Center, IA
-5
22 DNF
22
42T
Tyson Overton Carlisle, IA
Carlisle, IA
-
Finish
Start
#
Competitor
Hometown
+/-
1
7
11K
William Klosterman Ackley, IA
Ackley, IA
6
2
2
56J
Jamie Coady Colfax, IA
Colfax, IA
-
3
4
40SE
Scott Ellis Marshalltown, IA
Marshalltown, IA
1
4
8
76
Blake Henry Indianola, IA
Indianola, IA
4
5
6
37G
Jeremiah Andrews Union, IA
Union, IA
1
6
1
75M
Preston Merical State Center, IA
State Center, IA
-5
7
5
17
Andy Peck Newton, IA
Newton, IA
-2
8 DNF
3
42T
Tyson Overton Carlisle, IA
Carlisle, IA
-5
All transfer
Finish
Start
#
Competitor
Hometown
+/-
1
3
7BX
Eric Stanton Carlisle, IA
Carlisle, IA
2
2
7
83
Jeff Ware Columbus, NE
Columbus, NE
5
3
4
29RD
Rowan Mason Lincoln, NE
Lincoln, NE
1
4
1
39
Colby Kaspar Columbus, NE
Columbus, NE
-3
5
6
17X
Ben Newhouse ` State Center, IA
State Center, IA
1
6
2
24
Dustin Thompson Villisca, IA
Villisca, IA
-4
7
5
30T
Brian Stevens Newton, IA
Newton, IA
-2
All transfer
Finish
Start
#
Competitor
Hometown
+/-
1
4
24T
Tyler Ollendieck Tripoli, IA
Tripoli, IA
3
2
6
19
William Bonnett Knoxville, IA
Knoxville, IA
4
3
7
38R
Aaron Rudolph Grand Juction, IA
Grand Juction, IA
4
4
3
06B
Brandan Long Des Moines, IA
Des Moines, IA
-1
5
1
75L
Jacob Lehman Waterloo, IA
Waterloo, IA
-4
6
5
18S
Gary Ollendieck Sumner, IA
Sumner, IA
-1
7
2
9F
Breyden Forbes Evansdale, IA
Evansdale, IA
-5
All transfer
Stock Car
Finish
Start
#
Competitor
Hometown
+/-
1
4
22R
Todd Reitzler Grinnell, IA
Grinnell, IA
3
2
10
66Z
Elijah Zevenbergen Ocheyedan, IA
Ocheyedan, IA
8
3
8
94
Steve Meyer Grundy Center, IA
Grundy Center, IA
5
4
7
3W
Jeff Wollam Marshalltown, IA
Marshalltown, IA
3
5
12
75
Curt Hook Ackley, IA
Ackley, IA
7
6
11
2
David Atcher Laurel, IA
Laurel, IA
5
7
13
92B
Brian Blessington Breda, IA
Breda, IA
6
8
5
4
Scott Rice Marshalltown, IA
Marshalltown, IA
-3
9
2
74
Wayne Dotson Bakersfield, CA
Bakersfield, CA
-7
10
14
00H
Eric Hamilton Newhall, CA
Newhall, CA
4
11
16
77B
Rob Brillhart Crystal, MI
Crystal, MI
5
12
15
00
Jody York Lubbock, TX
Lubbock, TX
3
13 DNF
9
99D
Damon Murty Chelsea, IA
Chelsea, IA
-4
14 DNF
17
37C
Roger Ciesielski Waterloo, IA
Waterloo, IA
3
15 DNF
3
99
Jesse Sobbing Malvern, IA
Malvern, IA
-12
16 DNF
18
13D
Timothy DeGroft Jr Elwell, MI
Elwell, MI
2
17 DNF
1
2M
Angel Munoz Lamar, CO
Lamar, CO
-16
18 DNF
6
25X
Troy Burkhart Hays, KS
Hays, KS
-12
Finish
Start
#
Competitor
Hometown
+/-
1
1
22R
Todd Reitzler Grinnell, IA
Grinnell, IA
-
2
3
74
Wayne Dotson Bakersfield, CA
Bakersfield, CA
1
3
5
99D
Damon Murty Chelsea, IA
Chelsea, IA
2
4
6
4
Scott Rice Marshalltown, IA
Marshalltown, IA
2
5
8
25X
Troy Burkhart Hays, KS
Hays, KS
3
6
4
2
David Atcher Laurel, IA
Laurel, IA
-2
7
9
92B
Brian Blessington Breda, IA
Breda, IA
2
8
2
00
Jody York Lubbock, TX
Lubbock, TX
-6
9 DNF
7
37C
Roger Ciesielski Waterloo, IA
Waterloo, IA
-2
All transfer
Finish
Start
#
Competitor
Hometown
+/-
1
2
94
Steve Meyer Grundy Center, IA
Grundy Center, IA
1
2
8
66Z
Elijah Zevenbergen Ocheyedan, IA
Ocheyedan, IA
6
3
1
3W
Jeff Wollam Marshalltown, IA
Marshalltown, IA
-2
4
4
2M
Angel Munoz Lamar, CO
Lamar, CO
-
5
7
99
Jesse Sobbing Malvern, IA
Malvern, IA
2
6
6
75
Curt Hook Ackley, IA
Ackley, IA
-
7
5
00H
Eric Hamilton Newhall, CA
Newhall, CA
-2
8
9
77B
Rob Brillhart Crystal, MI
Crystal, MI
1
9
3
13D
Timothy DeGroft Jr Elwell, MI
Elwell, MI
-6
All transfer
Modified
Finish
Start
#
Competitor
Hometown
+/-
1
5
26J
Joel Rust Grundy Center, IA
Grundy Center, IA
4
2
1
10C
Cayden Carter Oskaloosa, IA
Oskaloosa, IA
-1
3
16
77
Jeff Aikey Cedar Falls, IA
Cedar Falls, IA
13
4
4
5L
Cody Laney Torrance, CA
Torrance, CA
-
5
3
3
Kelly Shryock Fertile, IA
Fertile, IA
-2
6
7
10K
Ronn Lauritzen La Porte City, IA
La Porte City, IA
1
7
17
9Z
Chris Zogg New Liberty, IA
New Liberty, IA
10
8
9
17X
Richard Michael Jr Ischua, NY
Ischua, NY
1
9
12
10RM
Ryan McDaniel Olivehurst, CA
Olivehurst, CA
3
10
2
915
Chris Elliott Abilene, TX
Abilene, TX
-8
11
15
01A
Andrew Armstrong Benton, AR
Benton, AR
4
12
19
5M
Zachary Madrid Phoenix, AZ
Phoenix, AZ
7
13
11
5X
Todd Shute Norwalk, IA
Norwalk, IA
-2
14
21
16B
Randy Brown Chowchilla, CA
Chowchilla, CA
7
15
13
1X
Chris Abelson Sioux City, IA
Sioux City, IA
-2
16
8
32
D.J. Shannon Merced, CA
Merced, CA
-8
17
18
11
Ethan Braaksma Newton, IA
Newton, IA
1
18
23
5
Austin Paul Newton, IA
Newton, IA
5
19
14
28
Cory Davis Seminole, TX
Seminole, TX
-5
20
24
14A
Chase Alves Casa Grande, AZ
Casa Grande, AZ
4
21
20
30B
Eddie Sites Towanda, PA
Towanda, PA
-1
22
6
60F
Jarett Franzen Maquoketa, IA
Maquoketa, IA
-16
23
10
4TW
Tim Ward Harcourt, IA
Harcourt, IA
-13
24
22
98
Jason Snyder Dunkerton, IA
Dunkerton, IA
-2
Finish
Start
#
Competitor
Hometown
+/-
1
4
11
Ethan Braaksma Newton, IA
Newton, IA
3
2
5
30B
Eddie Sites Towanda, PA
Towanda, PA
3
3
2
98
Jason Snyder Dunkerton, IA
Dunkerton, IA
-1
4
1
14A
Chase Alves Casa Grande, AZ
Casa Grande, AZ
-3
Top 4 transfer
5
3
41
Thor Anderson Rock Valley, IA
Rock Valley, IA
-2
6
8
00AZ
T.J. Wyman Klemme, IA
Klemme, IA
2
7
9
81
Jesse Belez Marengo, IA
Marengo, IA
2
8
6
40RC
Rod Clement Rhodes, IA
Rhodes, IA
-2
9
7
48J
Jacob Murray Hartford, IA
Hartford, IA
-2
10
10
19G
Richie Gustin Gilman, IA
Gilman, IA
-
Finish
Start
#
Competitor
Hometown
+/-
1
4
9Z
Chris Zogg New Liberty, IA
New Liberty, IA
3
2
2
5M
Zachary Madrid Phoenix, AZ
Phoenix, AZ
-
3
1
16B
Randy Brown Chowchilla, CA
Chowchilla, CA
-2
4
5
5
Austin Paul Newton, IA
Newton, IA
1
Top 4 transfer
5
3
21R
Riley Simmons Susanville, CA
Susanville, CA
-2
6
7
80J
Jared Van Deest Holland, IA
Holland, IA
1
7
6
11K
Mark Griffin Canton, PA
Canton, PA
-1
8
9
43S
Scott Simatovich State Center, IA
State Center, IA
1
9
8
3W
Garret Wilson Carlisle, IA
Carlisle, IA
-1
10
10
8W
Kenny Wyman Jr Marshalltown, IA
Marshalltown, IA
-
Finish
Start
#
Competitor
Hometown
+/-
1
2
17X
Richard Michael Jr Ischua, NY
Ischua, NY
1
2
5
5X
Todd Shute Norwalk, IA
Norwalk, IA
3
3
4
3
Kelly Shryock Fertile, IA
Fertile, IA
1
4
7
1X
Chris Abelson Sioux City, IA
Sioux City, IA
3
Top 4 transfer
5
1
14A
Chase Alves Casa Grande, AZ
Casa Grande, AZ
-4
6
3
41
Thor Anderson Rock Valley, IA
Rock Valley, IA
-3
7
9
30B
Eddie Sites Towanda, PA
Towanda, PA
2
8
8
48J
Jacob Murray Hartford, IA
Hartford, IA
-
9
6
81
Jesse Belez Marengo, IA
Marengo, IA
-3
Finish
Start
#
Competitor
Hometown
+/-
1
4
4TW
Tim Ward Harcourt, IA
Harcourt, IA
3
2
9
5L
Cody Laney Torrance, CA
Torrance, CA
7
3
2
915
Chris Elliott Abilene, TX
Abilene, TX
-1
4
3
28
Cory Davis Seminole, TX
Seminole, TX
-1
Top 4 transfer
5
8
16B
Randy Brown Chowchilla, CA
Chowchilla, CA
3
6
6
21R
Riley Simmons Susanville, CA
Susanville, CA
-
7
1
5
Austin Paul Newton, IA
Newton, IA
-6
8
7
80J
Jared Van Deest Holland, IA
Holland, IA
-1
9
5
43S
Scott Simatovich State Center, IA
State Center, IA
-4
Finish
Start
#
Competitor
Hometown
+/-
1
3
10C
Cayden Carter Oskaloosa, IA
Oskaloosa, IA
2
2
1
60F
Jarett Franzen Maquoketa, IA
Maquoketa, IA
-1
3
4
10RM
Ryan McDaniel Olivehurst, CA
Olivehurst, CA
1
4
8
01A
Andrew Armstrong Benton, AR
Benton, AR
4
Top 4 transfer
5
2
98
Jason Snyder Dunkerton, IA
Dunkerton, IA
-3
6
7
11
Ethan Braaksma Newton, IA
Newton, IA
1
7
6
40RC
Rod Clement Rhodes, IA
Rhodes, IA
-1
8
9
00AZ
T.J. Wyman Klemme, IA
Klemme, IA
1
9
5
19G
Richie Gustin Gilman, IA
Gilman, IA
-4
Finish
Start
#
Competitor
Hometown
+/-
1
2
26J
Joel Rust Grundy Center, IA
Grundy Center, IA
1
2
6
10K
Ronn Lauritzen La Porte City, IA
La Porte City, IA
4
3
4
32
D.J. Shannon Merced, CA
Merced, CA
1
4
9
77
Jeff Aikey Cedar Falls, IA
Cedar Falls, IA
5
Top 4 transfer
5
3
5M
Zachary Madrid Phoenix, AZ
Phoenix, AZ
-2
6
8
9Z
Chris Zogg New Liberty, IA
New Liberty, IA
2
7
5
11K
Mark Griffin Canton, PA
Canton, PA
-2
8
7
3W
Garret Wilson Carlisle, IA
Carlisle, IA
-1
9
1
8W
Kenny Wyman Jr Marshalltown, IA
Marshalltown, IA
-8
SportMod
Finish
Start
#
Competitor
Hometown
+/-
1
2
19J
Janae Gustin Marshalltown, IA
Marshalltown, IA
1
2
3
01
Brayton Carter Oskaloosa, IA
Oskaloosa, IA
1
3
9
3T
Tyler Soppe Sherrill, IA
Sherrill, IA
6
4
1
95J
Jason Hall Grinnell, IA
Grinnell, IA
-3
5
7
999
Brian Osantowski Columbus, NE
Columbus, NE
2
6
6
K9
Brian Kauffman Reinbeck, IA
Reinbeck, IA
-
7
8
4X
Jerry Miles Bernard, IA
Bernard, IA
1
8
4
40J
Jason Doyle Marion, IA
Marion, IA
-4
9
17
75C
Bo Partain Casa Grande, AZ
Casa Grande, AZ
8
10
10
95N
Garrett Nelson Osceola, IA
Osceola, IA
-
11
12
007
Zach Nitsch Delia, KS
Delia, KS
1
12
5
32G
Jasen Gray Colby, KS
Colby, KS
-7
13
14
1
Austin Kaplan Collins, IA
Collins, IA
1
14 DNF
13
1S
Shelby Alves Casa Grande, AZ
Casa Grande, AZ
-1
15 DNF
18
98S
Dennis Stewart Marshalltown, IA
Marshalltown, IA
3
16 DNF
11
98X
Bill Hildreth Iowa Falls, IA
Iowa Falls, IA
-5
17 DNF
15
26B
Bryan Johnson Roland, IA
Roland, IA
-2
18 DNF
16
4
Dustin Dreesman Grundy Center, IA
Grundy Center, IA
-2
Finish
Start
#
Competitor
Hometown
+/-
1
1
40J
Jason Doyle Marion, IA
Marion, IA
-
2
4
95N
Garrett Nelson Osceola, IA
Osceola, IA
2
3
5
19J
Janae Gustin Marshalltown, IA
Marshalltown, IA
2
4
8
4X
Jerry Miles Bernard, IA
Bernard, IA
4
5
6
K9
Brian Kauffman Reinbeck, IA
Reinbeck, IA
1
6
9
98X
Bill Hildreth Iowa Falls, IA
Iowa Falls, IA
3
7
2
1S
Shelby Alves Casa Grande, AZ
Casa Grande, AZ
-5
8 DNF
3
26B
Bryan Johnson Roland, IA
Roland, IA
-5
9 DNF
7
75C
Bo Partain Casa Grande, AZ
Casa Grande, AZ
-2
All transfer
Finish
Start
#
Competitor
Hometown
+/-
1
2
95J
Jason Hall Grinnell, IA
Grinnell, IA
1
2
4
3T
Tyler Soppe Sherrill, IA
Sherrill, IA
2
3
6
999
Brian Osantowski Columbus, NE
Columbus, NE
3
4
5
01
Brayton Carter Oskaloosa, IA
Oskaloosa, IA
1
5
1
32G
Jasen Gray Colby, KS
Colby, KS
-4
6
9
007
Zach Nitsch Delia, KS
Delia, KS
3
7
3
1
Austin Kaplan Collins, IA
Collins, IA
-4
8
8
4
Dustin Dreesman Grundy Center, IA
Grundy Center, IA
-
9
7
98S
Dennis Stewart Marshalltown, IA
Marshalltown, IA
-2
All transfer